Wasteland 2 Beta

This page has information from the Wasteland 2 Beta and may not be accurate with the commercially available version.
Darwin Village is a location in Wasteland 2 and the home of Project Darwin.
Darwin was a pre-war town located near a secret government base for biological research. The town survived the war as the Darwin village, named after the base which was later called "Project Darwin".
The village's residents however became increasingly withdrawn and distrustful of outsiders. The base's director Irwin John Finster at some point of time calculated a plan to replace all human beings with another life-form under the influence of the Base Cochise AI.
Finster however started rebelling against the Cochise AI who planned his demise and indirectly guided the Desert Rangers team led by Snake Vargas to kill him and put a stop to his project in 2087. Soon after, the research facilities were themselves destroyed.
The village survived but it was soon cut off from the outside world due to the radiation clouds. The staff of the base survived as well, but were transformed into mutants by a member of the Children Of The Citadel releasing the plague created by Finster.
Dialog Choices
Edit
Dialog Choices SPOILERS
Jan
Help - log book - turn on air filtration
after air system
Curing - +experience, marks North "Herbert" Shrine on map even if it is there already
Custodians

Won't tell
Will tell - combat

Goodbye
Plague Victims
PROTEUS - 7768387 - from RC museum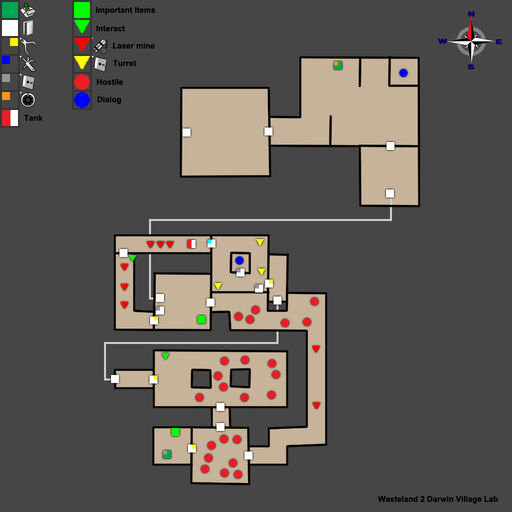 Lab door - plague -2 int -4 chr
Lab1 - safe - Bellona "2355662" (from Medal of Honor) - black list
Jan - help
desk clue MEMORANDUM - Irwin Finster - Erwin
Lab2 - alarm disarm door, comp sci door terminal
traps - laser - demo or just shot them
Door - "Irwin" - 47946
gurgling tank - shot it
turn on air system to cure plague
Night Terror Door code ICEBERG - 4232374
Night Terror - comp sci door - flesh parts is candy
Items and People Of Interest
Edit
Encounters
Edit
Unity file name: AZ10_Cops_14.unity3d
Community content is available under
CC-BY-SA
unless otherwise noted.