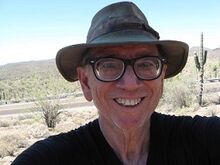 Kenneth Eugene St. Andre (born on April 28th, 1947) is a public librarian, fantasy author, and game designer, best known for his work with Tunnels & Trolls. He has been an active member of The Science Fiction and Fantasy Writers of America since 1989.
General Information
Edit
St. Andre was born in Ogden, Utah. He lives in Phoenix, Arizona, U.S. where he works as a librarian for Phoenix Public Library. He has been a librarian since 1975.
Game Design
Edit
St. Andre is the original designer of the 'pen-and-paper' role-playing game Tunnels & Trolls which was first released by Flying Buffalo, Inc. in 1975. In addition to writing the game rules, Ken was one of the creators of solitaire adventures which allowed players to experience the game without a game master or judge. St. Andre has written many modules and stand alone adventures for Tunnels and Trolls. Some of his titles include: The Deathtrap Equalizer Dungeon Naked Doom Arena of Khazan Goblin Lake The Lair of the Silver Serpent The Toughest Dungeon in the World Agent of Death Strange Destinies Hot Pursuit He also worked as a designer on the role-playing games Stormbringer and Monsters! Monsters!, and the computer game Wasteland. In 2008 he modified the 7th edition Tunnels and Trolls to bring the game world into modern times and turned it into a superhero rpg called Power Trip. In 1986 Ken was also the first editor for a fan club newsletter based around the Adventure Construction Set computer game, one of the rare cases of a professional designer leading gamer activities for another designer's game.
Though St. Andre was mentioned as one of the original design team brought back to work on Wasteland 2, little was said about this after summer 2012, though his name did appear in the design credits of the final game.
He has written various short stories and two short novels. "The Triple Death" (1995), in Enchanted Forests edited by Katharine Kerr and Martin H. Greenberg. An anthology of stories about magical woods. (ISBN 0-88677-672-4). "Turtle in the Tower" (1990), in Shadowrun: Into the Shadows edited by Jordan K. Weisman. An anthology of stories based on the Shadowrun role-playing game. (ISBN 1-55560-118-9). "Old Soldiers Never", in Shrapnel, a Battletech anthology. "The Two Worst Thieves in Khazan" (1992) in "Mages Blood and Old Bones". "Moral Invaders" in Flash Fantastic (Jan. 2005) "A Thief's Day in Khazan" (2005) in Golden Heroes "Trollgod's Treasure Hunt" (2008) in "Troll Tunnels". DRAGON CHILD: JUST A THIEF FROM KHAZAN. (2006) GRIFFIN FEATHERS; AND OTHER TALES OF TROLLWORLD. (2008)
Personal Life
Edit
Ken St. Andre has a wife, Cathy, and two grown children, a daughter named Jillian and son named James.
External links
Edit
Community content is available under
CC-BY-SA
unless otherwise noted.