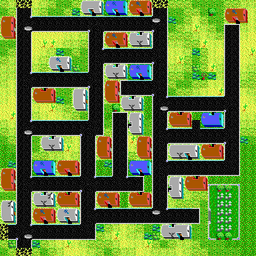 Quartz is a small town that suffered extensive damage from the nuclear attacks, yet managed to survive. Although located far from the large military targets, this tiny community was affected by earthquakes and low-level nuclear fallout. But in its feisty, small town way, Quartz quickly resumed normal life. About the only trouble Quartz has these days is with bandits.[1]
Despite being located further off to the North West from more humble settlements, Quartz is still quite safe to traverse through even for a starting party. One may wish to visit the Emporium early on to get a head start on proper gear; making the starting tasks much more easier.
This game location might correspond to the real-world location of Quartzsite.
Locations
Edit
Encounters
Edit
Graveyard
Edit
Quartz Emporium
Edit
Quartz Emporium (Store) SW Corner
costs
Dr. Quack's emergency clinic
Edit
Hospital Gray building in NW with antenna on it
References
Edit