Wasteland 2 Beta

This page has information from the Wasteland 2 Beta and may not be accurate with the commercially available version.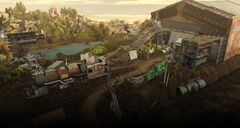 Known as the Desert Nomads in Wasteland 1.
Dialog Choices Rail Nomads Camp
Ralphy
Near Town OR Not Sure

Totem

Atchisons

Kekkahbah
Made
Hate - SA lv4 - log book

Jessie

Goodbye
---
Topekan - use Surgeon to save
---
Katy
Ranger
Brother

Letter
Give - give letter - end dialog - re-enter and she's dead
Money
---
Pit Bull - AZ3_Sperminator
Right Arm
Property

Pay
Problem - combat - RSM not happy
No Problem - she goes with him
---
Junkie - NE
Laying - KA lv4 - he lays down
Serket

Here you go - give 30 scrap
No way

Fork - give 30 scrap
Take - combat
---
Scotchmo
Yes
No - can retry
Squeezins?
---
Libby
Ralphy
Boy

Yes - hire Ralphy
No - Ralphy runs off to the playground, returns after talking to Jessie

Goodbye
---
Engineer
Atchisons

Wreck
Train
Casey James
Rail thieves

Living
Pretending
Help
Goodbye
EXTRA
---
Junkie - NW
Serket

Here you go - give 30 scrap
No way

Pay - give 30 scrap
Price - combat

Scrap - HA - exit dialog
---
Anna
---
Gorkinovich
Topekans

Atchisons

Kekkahbah

Jerks

Hobos
Junkies
Rail thieves

Trade

Casey James

Train

Snake Squeezins - trade dialog - buy one and return
Rangers
Goodbye
after buy Snake Squeezins
Stale

Distillery - KA4 - Gorkinovich's Distillery marked on map
---
Samuel
Ace

Heard - HA lv4 - or Know - SA lv6 - or Boring man

Something
Killed
Log book - receive Ace's log book

Hell Razor - ask after Ace - log book
It
Goodbye
---
Holliday
Trade - merchant trade dialog
Rail thieves
Kekkahbah
Atchisons
Goodbye
after supplies
Stolen Supplies - give him supplies
---
Quarex
Help - log book
Rangers
Pleasure
Goodbye
after Honest Jon
---
Junkie - W - Boxcar D
Radioactive Mushrooms - give item to him
Trade - merchant trade dialog
Kekkahbah
Rangers - infer Bowling
Goodbye
---
Kekkahbah
Dealer - he sends 1 Chopper out to deal with it
Injured Topekan

Atchisons
Golden Spike
Conflicts

Topekans
Casey James
Stolen
Train
War

Choppers

Rail thieves
Welcome
Ralphy
Goodbye
EXTRA
after Casey James and Thieves
Convenience
Release Jessie

Leverage - SA -

Dishonorable

Daughter

Laws - Jessie is released

Surrender

Conditions - she will be released after negotiations

Example - KA - she will be released after negotiations
Swinging
after Casey again
Deal

Terms

One arm - terms
Trade
End the War
after Casey - official
Dialog Choices Atchison Camp
Melissa
End

Topekans
Kekkahbah
Menfolk

Stop

Peace - Choice, removes Kill
Kill - Choice, removes Peace

Casey James
Bombs
Womenfolk

Goodbye
---
Honest Jon
Medal
Switchman
Antiques
Trade merchant trade dialog - CD-i
Goodbye
EXTRA
---
Chisel
Hell Razor
Down - Aidian Bomositabo - The Chisel
Work

Casey James
Security chief

Goodbye
EXTRA
after tribal deal, at RNC Exit to World
---
Casey
Gunpowder
Brake shoe
Bicycle trap
Jessie

Nothing
Stolen brake shoe
End the War

Topekan boy
Goodbye
after Jessie
Righteous

War - he will meet - "both" can be used after this as well
Done - KA -

Both - he will meet and work together
after Kekkaahbah
---
Jessie - after release
Meet Jessie, save Ralphy (Brute force S totem)
Save Topekan with Surgeon
Diffuse bombs, on bike, car
Get Magic Mushrooms from NE for ...
Grave: Brakeman 2041-2090
Grave: Oracle ?-2095, and a Toaster appears
Grave: Dr. B. Bilious Balfour 2030-2102
Hire Scotchmo?
H.R. Log Book and Ranger Star
Turtle - Brute Force or Animal Whisperer to flip, follow for ages for a stash
Ralphy for hire in Boxcar 3
Boxcar 4 - library - +1 Demo
Æthelwulf's Utopia behind meeting hall
Samuel in Gorkinovich's bar

If Angela Deth is in the party, she will try to kill him after conversation

Can be avoided by leaving her outside

Quarex, 4 floppy disks, small scope if you bug him and try to take it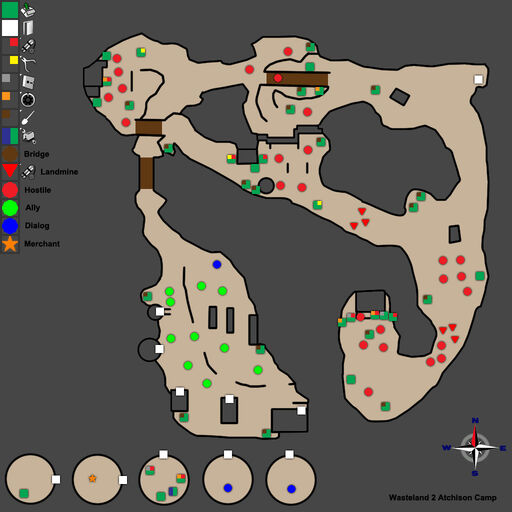 Pic
Name
Location
Info
Jesse
1st bridge
waving for help
Ralphy Parker
location
save with Brute Force on S pole - dialog, later Boxcar 3
Elder Samuel Cole
hut by lake
runs to tell others if you saved Ralphy, later Boxcar 3
Topekan
roadside
use Surgeon to save - dialog
Topekan x15
multiple locations
patrolling
Junkie
NE
dialog with West one
Hobo x6
N
info
Scotchmo
N - NE
dialog
Lil Joe
Boxcar 1
eating
James
Boxcar 1
eating
Nancy
Boxcar 1
eating
Billy
Boxcar 1
eating
Katy Bowling
Boxcar 2, if talked to Bowling at RC
dialog
Pitbull Bowling
Boxcar 2, if talked to Bowling at RC
dialog
Libby Parker
Boxcar 3
dialog - Ralphy's mom
Anna
Boxcar 5

dialog

disease: Drippy Dragon (male)

disease: Crusty Clam (female)

Rat
Center - Shrine
use Animal Whisperer
Engineer
Train
dialog, don't blow the whistle too many times!
Junkie x3
W
hostile
Junkie x5
NW
neutral
Topekan x7
Boxcar 6 - Bar
drinking
Gorkinovich
Boxcar 6 - Bar
dialog x2
Samuel - Sammy Haas
Boxcar 6 - Bar
dialog
Holliday
Boxcar 7 - shop
dialog - merchant, Nico-Pops Cigarettes
Quarex
Boxcar A - arcade
find CD-i
Junkie
W - Boxcar D
dialog - trade - radioactive mushrooms
Kekkahbah
Meeting Hall
dialog
Topekan x6
Meeting Hall
patrolling
Waste Wolves x4
ESE
hostile
The Provost
ESE nest to a rock
follows you around
Waste Wolves x3
SSE antenna
hostile
Horned Toad x3
ESE
hostile
Junkie x5
SE
hostile
Horned Toad x3
SSE
hostile
Unity file names: AZ03_RailNomadsCamp.unity3d, AZ03_AtchisonCamp.unity3d
Community content is available under
CC-BY-SA
unless otherwise noted.