Wasteland 2 Beta

This page has information from the Wasteland 2 Beta and may not be accurate with the commercially available version.
Originally Ranger Center in Wasteland.
Named so for being a prison before the nuclear war. The Prison is the former headquarters of the Desert Rangers, who abandoned it after 2087 when Project Darwin's android attacked it and the new General Snake Vargas decided to move the Rangers to the Guardian Citadel after finding it more defensible.
The former prison is now run by by the Red Skorpion Militia who also attracted other denizens of the wastes to come live in the "Happy Valley" around it, promising them prosperity and protection. However, it is just a sham so they will be able to bleed more people dry.
Dialog Choices
Edit
Prison Valley
Edit
Dialog Choices
Fred Darvis
Damonta
Prison
Help - out of dialog - brute force wagon
Trade - merchant trade dialog
Goodbye
EXTRA
Brother - he gives you rad suits
---
Celia Caminada
Rad suits - PW 123456789
Damonta
Well - repair with Mechanical Repair
Red Skorpions
Goodbye
after well fixed
---
Tim Messer
She
Untilled Field Tax
Property Insurance
Goodbye
---
William Brown
Rad suits
Damonta
Rangers
Red Skorpions
Pigs

Auwaerter
Help - get pigs

Goodbye
---
Cyril Verba
---
Anna Hegedus
---
Bucky Brown
Did

Sick - SA - he agrees - end dialog

Trouble - combat
Goodbye - he runs home and all Browns hide
---
Chris VanOverbake
Gladys

RSM General Store
Scrip
Tax
Husband

Assessor
Happy Valley
Taxes
Weapons

Yes - 100 scrap
No - combat

Goodbye
---
Page
He

Yes
No
Don't Know - she runs off

Goodbye
---
Beggar
---
Red's PCWS
Code
perfered
123456789
password
rosebud - good
---
Red
Damonta

Damonta

Rad suits

Baychowski - log book - get him out of RC brig

Wall

Business

Trade - merchant trade dialog

Goodbye
Dialog Choices
Jim Auwaerter
RSM
Happy Valley
Field hands
Goodbye
---
Jobe
Kill - log book

Red Skorpions
Slaves
Prison

Farm
Goodbye
---
Intercom
Repair well near Celia Caminada with Mechanical Repair

Top off canteens
receive weapon from her

Mechanical Repair on forklift
Cages at SHAK - alarm disarm
crane - comp sci - new map exit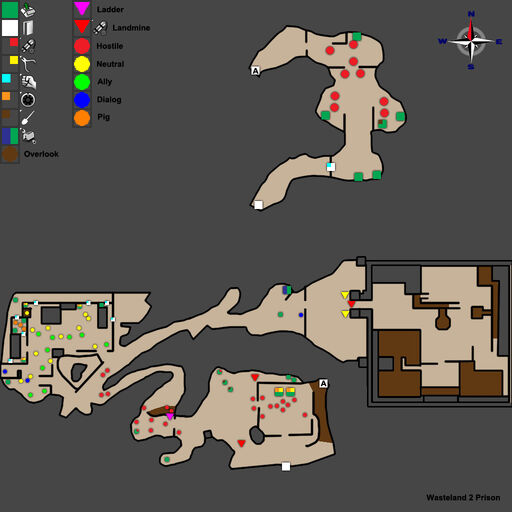 landmines x13 x5
need to clear a path through the mines for the pigs
Encounters
Edit
Prison Valley
Edit
Unity file names: AZ04_ThePrison.unity3d, AZ04_ThePrison2.unity3d
Community content is available under
CC-BY-SA
unless otherwise noted.