Nukapedia is proud to be affiliated with The Wasteland Wiki - Guardians Forever!
KickStarter Update - Its On!
The Greatest RPG ever…. ever is on! Combining Wasteland's [Kickstarter] and Paypal donations, Kickstarter has now exceeded $2.1 Million. That means Chris Avellone is on board, and tools will be provided by the good folks at Obisidian.
New Kickstarter Tier
A new "Digital Only" tier has been added aimed at International buyers for $55:
THE INTERNATIONAL FRIENDLY ALL DIGITAL PACKAGE! You get one digital copy of the game DRM free for PC, Mac or Linux, digital soundtrack, digital concept art book, episodic novella part 1 and 2, and premiere access to an early playable beta on steam. This comes with no physical goods to help with VAT, duty and shipping costs for our international fans!
If you haven't donated yet, surely you are now out of excuses?
MattChatt plays Wasteland
Gaming historian "Matt" has made Wasteland the subject of one of his "Chats", catch up with MattChat here.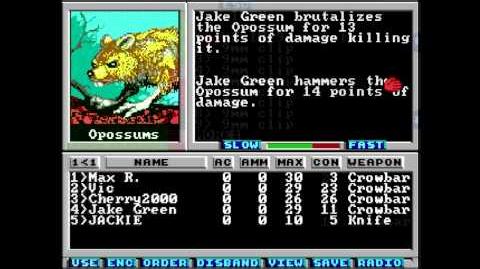 In the past Matt has spoken with Tim Cain and Brian Fargo, and has featured many of the other Interplay greats.
Want a Chris Avellone Autograph?
Its going to cost you $250, but you'll also get Brian Fargo's and Michael A Stackpole's. Just donate that much or more through Kickstarter or Paypal. You still get all the other good stuff, but lets face it, you just want the signature right?