Welcome to Wasteland Wiki!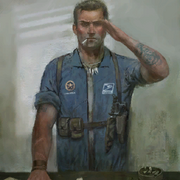 Hello, Тихий-Дон, and welcome to Wasteland Wiki! Thank you for your contributions, and we hope you'll stay with us and make many more.
Some links you may find useful:
If you have questions, you can ask in our forums or post a message on my talk page. We hope you enjoy editing here and look forward to working with you!
~~~~
Wasteland 3 weapons
[
]
Heyoo! I have divided the Wasteland 3 weapons page into parts, so they can be modified without loading all those heavy tables if you need to fix just one weapon. All parts are transcluded to Wasteland 3 weapons page.
Here is the list of those parts
Void Smasher (talk) 12:59, 29 November 2021 (UTC)
Images
[
]
Heyoo! Please avoid uploading new images if such images already exist. That's cause a mess. Just reupload existed images if you want to replace them.
For example, instead of uploading new image for Young Man Vinters you can reupload an existed image.
To do so You can click on image in infobox and then click on image name on top of the shown window to open it's page where you can simply reupload it.
Make sure that all images must be linked to a proper categories such as:
Also please follow image naming

For example for Doe (Wasteland 3) proper image name will be WL3_Doe.png or WL3 Doe.png if you don't like underscores.
And finally it'll be great if you upload images which width is equald or higher than 268 pixels. Such images will perfectly fits infoboxes.
--Void Smasher (talk) 19:21, 11 December 2021 (UTC)
Character images
[
]
Hi! All character images are already present at the wiki. Check Category:Wasteland 3 character images
All images are original from game files, uploaded by Tagaziel. For example image for Axle below.
--Void Smasher (talk) 14:25, 15 December 2021 (UTC)
Hey! Why You removed preorder weapons from Wasteland 3 automatic weapons? Are they not the part of the game anymore? I don't remember such change in v 1.6.9.420. --Void Smasher (talk) 20:31, 27 March 2022 (UTC)