Welcome to Wasteland Wiki!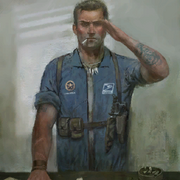 Hello, Fudgyduff, and welcome to Wasteland Wiki! Thank you for your contributions, and we hope you'll stay with us and make many more.
Some links you may find useful:
If you have questions, you can ask in our forums or post a message on my talk page. We hope you enjoy editing here and look forward to working with you!
Membership in the Rangers
[
]
Would you consider it? You certainly make a name for yourself outside in the Wasteland! Tagaziel (talk) 09:16, 26 September 2016 (UTC)